ATB has grown from one small Treasury Branch to become one of the largest Alberta-based financial institutions – but its success is no accident. In fact, ATB has been purposeful in differentiating itself from 'other banks' by transforming banking and changing customers' lives for the better. With a goal to build on its success, ATB wanted to create an innovative, interacting and exciting program to help its team build the skills needed to collaborate and achieve better results.
Delivering a solution for ATB
ATB approached Canadian Management Centre to develop and deliver a solution that could help team members build knowledge, skills and confidence, as well as relationships across the organization, to drive innovation and deliver a "wow" experience to customers. We built a curriculum with CMC-designed modules that complemented the existing ATB suite of learning programs. Our solution, customized with content co-created with ATB stakeholders and delivered by ATB, was completely integrated to ATB culture and its strategic priorities. Importantly, it leveraged key concepts in neuroscience research to understand how to create a safe and inclusive work environment. Our solution also included a follow-up learning sustainment strategy to reconnect with participants at various intervals and keep the program concepts top of mind.
Our training's impact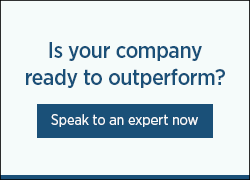 Released in late 2016, Canadian Management Centre's program was perfectly timed with ATB's organizational realignment to better serve the needs of Albertans. Participants, eager for new tools and strategies, were excited about the practical and actionable solutions the program delivered.
Results from our 30-Day Post Survey reveal that participants are already fostering a more collaborative approach, adapting to different thinking styles, identifying barriers to collaboration and new strategies to improve organizational effectiveness, and applying those strategies to involve key stakeholders and get buy-in and commitment from them.