Canadian Blood Services manages the national supply of blood, blood products and stem cells, and related services for all the provinces and territories (excluding Quebec). The organization's national scope, infrastructure and governance makes it unique in the Canadian healthcare landscape. Canadian Blood Services is a not-for-profit charitable organization.
To support its high-commitment, high-performance focus and to drive a significant shift in how organization members think, act and behave, Canadian Blood Services needed to provide front-line leaders with continuous opportunities to help them build new mindsets, establish desired behaviours and expectations, and encourage on-going development.
Delivering a solution for Canadian Blood Services
Canadian Management Centre was already a long-term partner of Canadian Blood Services, working closely with its talent management team to offer learning and development options to its diverse workforce across Canada. In this instance, we were engaged to work with the Canadian Blood Services team to build a customized program – called New Roles, New Expectations – that could enable front-line leaders to address emerging shifts in their roles from employee to leader. A subsequent program, Leading Through Relationships, was developed to progress the skills of these leaders, helping them more easily build relationships, communicate with clarity, give and receive feedback and navigate challenging conversations.
Our training's impact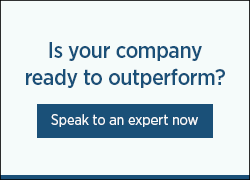 The quality of Canadian Management Centre content, our flexibility in adapting to current issues in Canadian Blood Services' environment and the caliber and fit of our Facilitators have all been key differentiators in building our relationship as well as in our ability to deliver to Canadian Blood Services' needs.
Feedback from participants in both programs described above confirmed the content we provided was relevant and empowering, helping them build on their strengths and overcome challenges. What's more, our active skill practice, building on real-world examples and real-time coaching and feedback lead participants to rate those programs as, "exceeding their expectations".
Overall, participants reported three top outcomes from participating in the programs: improved communications, increased effectiveness and improved working relationships.