Jaime Gannon - Director, Canada East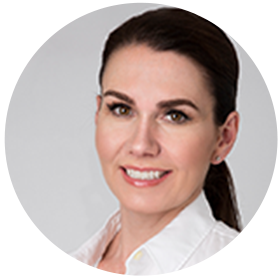 Jaime has been a National Account Director and Director of the National Capital Region at Canadian Management Centre, since 2005.  In 2017, Jaime expanded her territory to include Montreal and Eastern Canada, where she continues to partner with Canadian organizations to develop and implement talent development solutions aligned to achieving their organizational strategies and goals.
Jaime's attributes of exceptional customer care and focus have noticeably set her apart, since her career began within the IT Education industry. She is passionate and driven to build solutions that will allow her clients to achieve their goals. Jaime's collaborative mindset and approach remains her compass, through all stages of projects and initiatives she is engaged in, from program scope to delivery and beyond.
Over the past decade, Jaime has had the opportunity to build long-lasting client partnerships with both large organizations and small/medium businesses, including many Not-For-Profits, Crown Corporations and Federal Agencies. Some of the clients Jaime has partnered with include: Canadian Blood Services; City of Ottawa; The Royal Canadian Mint; Ross Video; Hydro Ottawa; CN; Bank of Canada; Kinaxis; CSL Group; McKesson Canada; and NAV CANADA.
Having now dedicated over 20 years to the learning and development community, she has enjoyed both witnessing and being part of the incredible innovations that have transformed the adult learning experience. Embracing Canadian Management Centre's core values, and building on her background in Social Science and Communications, Jaime is currently completing a Bachelors of Cognitive Sciences, as a complement to Canadian Management Centre's brain-based learning model.
Jaime is a bilingual mother of 4, an avid skier, and an enthusiastic anti-bullying campaigner who has successfully campaigned for the donation of numerous "Buddy Benches" to schools throughout her community. Jaime believes that with a flexible approach, the right attitude, and a growth mindset, we can achieve our development goals and Outperform -- through all stages of life.