Canadian Management Centre leverages the best tools of the private sector — and a 55+ year track record of training success.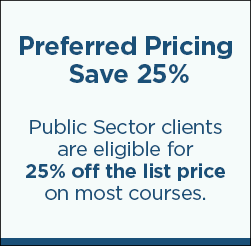 We offer hands-on, instructor-led training, in-demand content, and flexible learning formats to suit every need. Take advantage of open enrollment courses as well as tailored and fully customized solutions onsite at your preferred location for organization-wide learning.  Our facilitators understand the unique, constantly evolving challenges of the Public Sector as well as the most successful private sector business strategies.
Since 2004 our Centre of Excellence for Ontario Public Sector Services has designed, developed and delivered over 2,000 learning, training, and development programs. In June 2016, we were awarded a fourth Vendor of Record (VOR) for Learning and Training. VOR#OSS-00536904 - Learning and Training Services. This VOR was established to provide Learning and Training Services for the Ontario Public Service (OPS) and is available for use by provincially funded organizations.  

*Terms & Conditions
Public Sector pricing is applicable to all Canadian Management Centre Public Program/Open Enrollment classroom courses except OnDemand and Express courses.  Past purchases and other promotional offers are excluded. Prices and schedules are subject to change without notice. Offers cannot be combined and is a call-in offer only. Call 1-866-929-1590 for details.  Price is applicable to new registrations only.