Check in before your employees check out.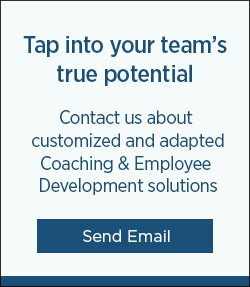 Did You Know?
Coaching to maximize productivity is 7X more common in high-performing organizations.
The frenetic day to day quest to keep an organization on track sometimes discourages or blinds your managers from taking the time to check-in with employee's on their aspirations, motivation, and development. The result can mean future potential is missed and those who are dissatisfied or disillusioned check out or find somewhere else to go.
Organizations that are tuned in to their employee's needs and goals outperform their competition because they can tap into the total talent of their team and apply that to achieve business priorities.
The solution? Developing your leaders to coach for growth is a surefire strategy to help your organization retain the best of the best. Support your leaders with the skills they need to ask the right questions, apply a growth mindset and to create opportunities that leverage employees' existing attributes and build on their potential.
Contact us to learn more about our Coaching & Employee Development programs.