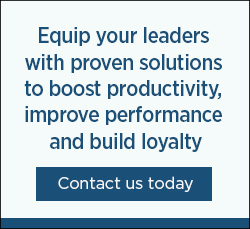 Did You Know?
89% of managers believe employees leave for more money. When in fact, 88% of employees leave for reasons that their leader can influence. (Leigh Branham, 7 Hidden Reasons Employees Leave)
Most leaders are promoted into management roles based on their ability to get results. However, this critical transition requires a fundamental shift into learning not just how to achieve results, but how to do so with and through others. When leaders don't know how to effectively set expectations, manage performance, provide constructive feedback, recognize and motivate others or coach the potential of their team members – employees become unhappy, unproductive and disengaged.
The urgency to build the capability of your leaders is intensified when you consider the expectations of emerging generations in the workforce (Gen X, Millennials and Gen Z) who want their leaders to take a more active role in their development.
The solution? Proven and practical management and leadership development techniques that equip leaders to boost productivity, improve performance, develop your talent and build loyalty.
Call us at 1-877-262-2500 or email us at success@cmcoutperform.com for learn more about our Management & Leadership Development programs.