Moving forward together.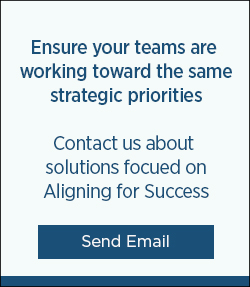 Did You Know?
63% find it challenging to slow down to link what they're working on to strategic priorities. (Being Strategic in Uncertain Times, CMC Webinar Poll, 2016)
Uncertainty about roles. Duplication of effort. Siloed thinking. Unclear end goals. An inability to see the big picture. These can be clear signs of an environment or organization that's misaligned and in a vortex of competing priorities.
The impact of this misalignment can result in employees and decision-makers being pulled in opposing directions, goals not being clearly communicated, wasted resources, unrealized opportunities and an inability to work together or get along.
The solution? Support individuals with the tools they need to align strategic priorities and improve communication. Leverage learning as an opportunity to shift ingrained ways of thinking and to open space up to collaborate to get everyone to move forward together.
Contact us for more information on courses and programs aimed at Aligning for Success.