The peril and promise of change in the workplace
Did You Know?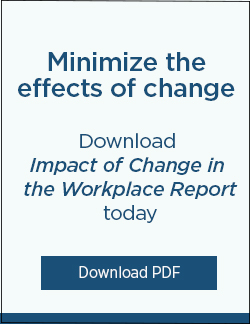 Only 5% of leaders are able to effectively manage performance conversations without ratings
According to our latest RealityChek survey, 86% agree that change in the workplace has increased in the last three years. This pace of unrelenting change can increase stress and take a toll on everyone, from employees and managers up to the C-level.
With such unprecedented change, you may be noticing growing apathy – with your team feeling stressed, resistant, unmotivated to adapt and burned out. And yet, you're called to get people aligned, on-board and ready to deliver results.
The solution? More effective change management practices that mitigates disruption, reduces resistance, maintains productivity and minimizes loss of talent through more effective communication and proven leadership strategies.
Click here to download our latest RealityChek® Survey: The Impact of Change in the Workplace and view our range of Change Management program.