Technical proficiency isn't enough to enhance performance.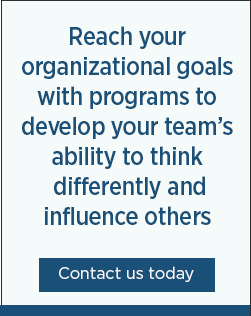 Did You Know?
62% identify communication and interpersonal skills as a significant talent shortage in today's workforce. (ATD, Bridging the Skills Gaps in Workforce Development is Everyone's Business, 2015)
Talent and technical expertise may get your employees to do their job satisfactorily, but they aren't enough to generate stronger outcomes – either for themselves or for your organization.
Improving baseline performance requires training employees to think differently to problem solve and to distill and analyze information to generate critical insights. Transforming into a high performing organization means an equal priority on developing the capability to build relationships and proactively engage with other stakeholders to achieve their desired results.
Failure to communicate and act with a more collaborative mindset can become a drag on momentum that demotivates your team, overlooks key resources, and often leads to decisions that aren't well aligned to your strategic priorities.
The solution? Develop your team's ability to translate ideas into action. Build their capability to develop a more strategic mindset, to think beyond their capabilities and to successfully influence others towards achieving organizational goals.