Companies continue to struggle with identifying their leadership talent
Did You Know?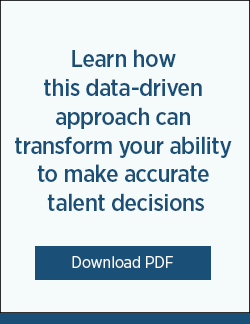 82% of organizations fail to identify the right individual for their leadership positions 
If you work in the talent management space, you understand the complexity that comes with making leadership talent decisions. Traditional approaches to assessing and identifying leadership potential are complex, subjective and often ineffective. But defining what potential looks like for your organization and leveraging internal talent to build capability is crucial to your future success.  The good news? There is a simpler, more accurate way to identify and develop leadership talent. Download our free 4 page brochure and find out how.