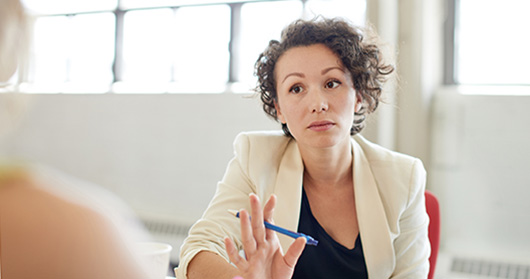 Your nonverbal communication is just as important as the words you choose.  A simple tilt of your head can send the message that you aren't confident about what you're saying.  Your conscious mind handles your nonverbal message and it can be tough to transfer that function to your conscious mind.  It's already trying to pick the words you're using and make sure you can stand up without falling over!   
Nick Morgan, author of Power Cues has 7 steps to take control of your nonverbal communication.  He suggests you get started consciously managing your nonverbal message by starting with these two: 
Step 1: Become aware of your non-verbal behaviour.  Be aware of how you're showing up to others.  Are you sitting straight in meetings? Slouched over? What message could your body be sending that conflicts with your verbal message?
Step 2: Notice your own emotional intent.  Your emotion "leaks" to other people through nonverbal cues.  If you're a leader and want to get everyone charged up about a project, it's important your emotional intent demonstrates enthusiasm and supports your message. Keep it authentic though, if your nonverbal is over the top to how you normally show up, you might confuse people.
Now that you're more conscious of how you "show up".  Take inventory.  Is it how you want to show up?  What adjustments should you make? Then practice, it's not easy to consciously manage your nonverbals and it will feel unnatural at first - but keep at it.  It gets easier!
(Originally appeared on hbr.org  - Take Control of Your Nonverbal Communication)