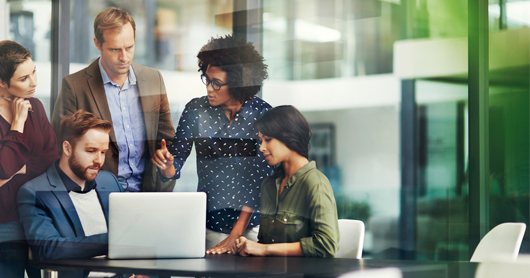 An organization's knowledge is not simply data stored on a hard drive or somewhere in the cloud—it's much more complicated. Knowledge is the combination of information and insights that people within an organization depend on not only to do their own jobs, but also to effectively work with others, solve problems, keep work flowing, maintain quality standards, and meet customer expectations. Knowledge is gained through context, skill-building, collaboration, application, focus, engagement, and commitment—and easily lost through turnover, a crisis, or other disruption.
Without a reliable method of preserving and passing along its valuable knowledge, an organization will continually struggle to train and keep good people and deliver consistent results. Establishing such a method for your organization starts with understanding the five components for successful knowledge transfer:
Helpful tips:
Attitude: For knowledge to be learned and used, people need to understand how the information helps them. "What's in it for me?" If the answer is little or nothing, people won't be receptive, let alone invested.
Skills: People need to get hands-on experience and practice by doing so they develop "how-to" knowledge.
Context: People need to have enough context and background information so they can put their new skills to work effectively.
Confidence: People need to believe that they are capable of executing the new skills or applying the new information to answering questions and finding solutions on their own. Practice builds confidence.
Commitment: People need to promise themselves to use the new skills back on the job. Without the formal intention, they are less likely to use the information.
Part of a manager's job is ensuring that new team members absorb, remember, and apply the knowledge vital to an organization. When presenting new information or training people in new skills, following this flow can help:
Prepare learners to learn. Start with a brief introduction to the topic covered and clearly state the learning objectives. Cultivate the right attitude for learning. Answer the question: Why do I need to learn this?
Present information. Be sure to include the context—the big picture—as well as key definitions and terms, policies, procedures, protocols, rules, and/or guidelines. Provide examples and demonstrations. Answer the question: What are the key points about this topic?
Practice skills. Practice following instructions. Practice activities. Provide scenarios and trial runs with guidance and support throughout. Answer the question: How do I apply this knowledge?
Provide feedback. Do a debriefing with a priority on overcoming any obstacles and identifying opportunities for improvement. Answer the question: How can I do this better?
Reinforce what was learned and why. Provide a summary and review of many points covered. Address any concerns or questions from learners. Emphasize the need and opportunities for future use. Answer the question: What are the implications of these skills and knowledge in the real-world context of my job and the organization?
With a clear understanding of what knowledge transfer is and why it matters, along with a structured approach to making it happen, your organization's wealth of knowledge will remain secure - and so will its continued success.
This article first appeared on amanet.org and adapted for CMC. Used with permission. All rights reserved.