Responding to Conflict: From Friction to Action (Earn 1 PDU)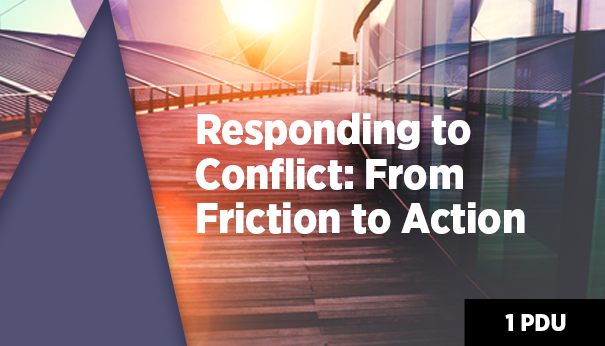 Conflict is a natural part of today's workplace.  The rapid pace of change, feelings of stress and pressure, different work styles, and competing demands can lead to intense situations.  However, it's not the fact that conflict arises as much as our approach to dealing with it (or not) that creates a barrier to our success.
Some of us engage in conflict when emotions are high which can amplify an already tense situation.  Others take the approach of avoiding conflict which simply delays a breakthrough in a situation or relationship that could deliver a different and more productive outcome.  There is however, a balanced approach that will allow you to move from friction to action.
Watch this FREE 1-hour webinar to get strategies that will help you identify the source of conflict, manage the impact and arrive at a solution that delivers better results.
Why Attend
Understand what happens to your brain during conflict
Build your confidence to engage in (vs. avoid) difficult interactions at work
Reset your filter on what's really at stake with unresolved conflict
Learn to focus on a solution-approach to respond to conflict