Projects turn strategy into reality. How well does your organization deliver on strategic goals?
Did you know…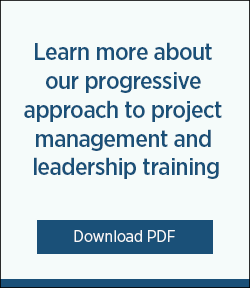 Organizations that fail to achieve their business outcomes may be failing due to poor project leadership?
Most of us have experienced it: projects that are executed on time and budget yet fail to deliver true business value. In today's complex work environment, traditional approaches to project management are no longer enough for organizations to achieve strategic objectives and remain competitive. What's required is a shift in mindset and skillset that ensures leaders, project managers and team members have the capabilities, confidence and agility to deliver results through projects that are aligned with organizational goals.
How do we make the shift? It starts with rethinking the capabilities required at each level of the organization to ensure that project leaders are truly results leaders. Canadian Management Center, in partnership with World Class Productivity, have simplified the business of creating results. We work side-by-side with organizations to provide support throughout a project's lifecycle and focus on developing employees and teams with tailored training solutions that are designed with your culture in mind.